Fascinated Book: 

Interesting quiet book keeps your kids engaged for a long time.

Interactive Book: 

Allows your kiddo to have a basic recognition of daily activities, from waking up in the morning, having breakfast, dressing up, to playing outside.

Montessori Education: 

Improves its hands-on ability & motor skills and stimulate its imagination & creativity.

Safe Material: 

Safe, chewable, tear-resistant and machine-washable material.
Made with Love & Safe, Relieves your Worries
In pursuit of safe & fun playtime, this book is specially crafted from premium soft woven cotton fabric, safe, non-toxic and chewable for your little one. All the tiny parts are tied with a string so that they wouldn't come off. No more worry about fall-off parts being eaten by your toddlers.
Machine-washable, convenient for clean-up. The tiny parts are tightly stitched by a string so that it wouldn't come off during cleaning.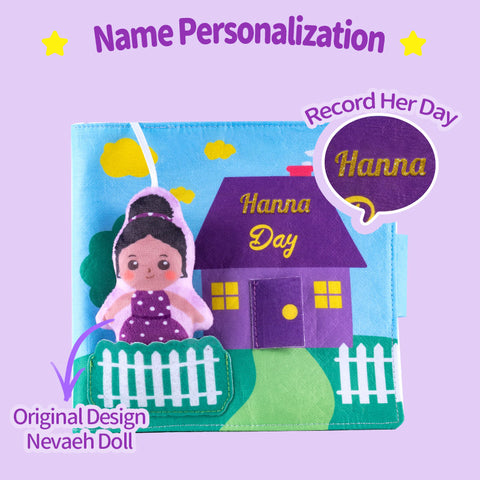 Free Personalization, Unique Toy
By adding your kid's name on the cover, we can customize a unique book for your kid. A special and memorable doll for your adorable kids, nieces, nephews, or grandchildren.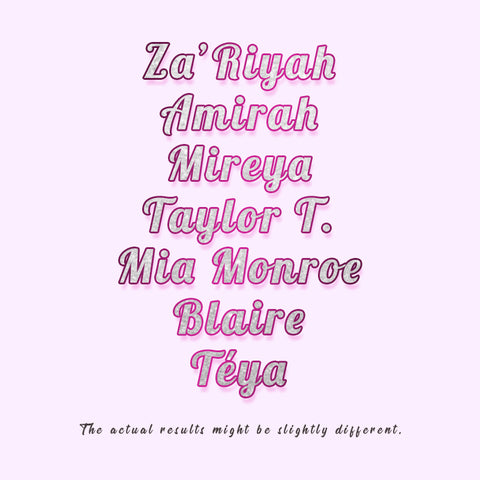 Up to 12 letters can be engraved. Please note the name you need to customize before ordering. After finishing the customization, we'll take a picture and send it to your mail so that you can confirm the customized effect.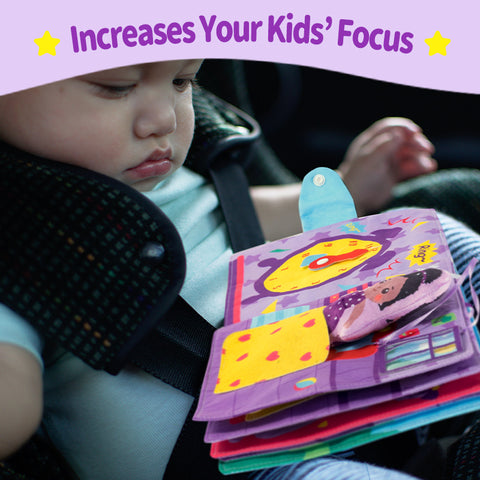 Keep Your Tiny Tots Occupied & Fascinated 
From home to outings, this book with various interesting activities leaves a stage for your kid for immersive roleplay. It completely increases your kid's focus & attention span and keeps it engaged for a long time, which allows you to have some time for yourself. An attractive &lightweight take-everywhere toy for home, travel, flight, airplane, car seat, hospital, etc.
Learn & Play-Educational Book
It allows your kiddo to have a basic recognition of daily activities, improve its hands-on ability & motor skills, and stimulate its imagination and visual ability. You could also have a lot of fun with your kiddo when playing with it.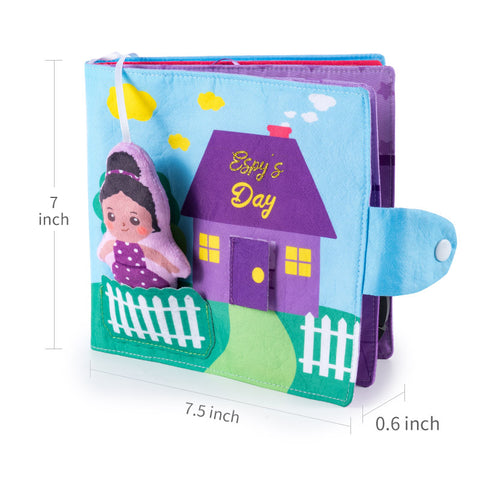 Dimensions:

We strategically designed the book to be about 7 inches & 7.5 inches in height & width, which is the perfect size for babies to grab and play with easily.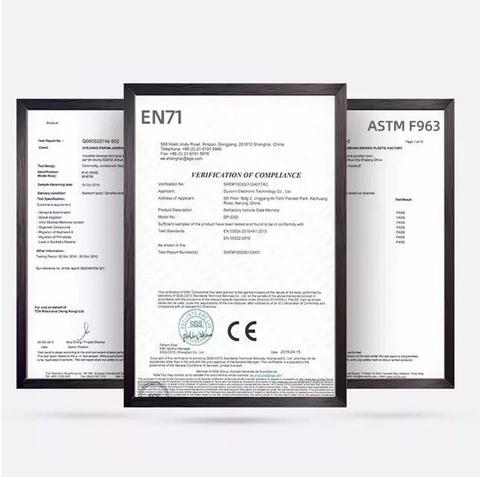 Safety:
Designed with love: safety is the top concern for both parents, grandparents,and our brand. All products conform to both the European Toy Safety Standard EN71 and the US Toy Safety Standard ASTM F963.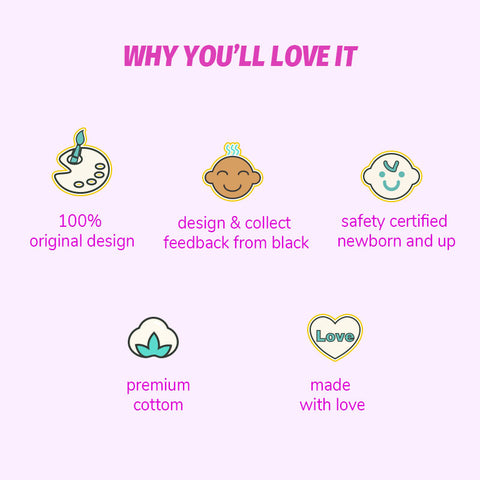 About Lovinglydoll  
In order to let more kids of deep skin tone to have same color dolls like themselves, we have been working hard.
We believe that the mission of the doll is to bring happiness to children, and this happiness has nothing to do with race. Our black dolls are destined to be the best gifts for babies and kids!
About iFrodoll 
iFrodoll is a sub-brand of Lovinglydoll. Designing funny and meaningful products for black is our brand goal.Our product series are constantly expanding, our dolls are suitable for children of different ages, and those who like to collect dolls. Each doll can be customized with name or birthday as a unique gift. All products have passed safety inspections to ensure 100% non-toxic. 
Shipping & Delivery
As personalized dolls take 2 working days to produce, all orders will be delivered from our warehouse within 5 working days.
Hot Sale
$14.99
Regular price
$21.49
30% off
$14.99
Regular price
$21.49
30% off